Welcome to the list of the top 100 fast foods highest in manganese content. Where the amount of manganese ranges from 2 mg to 0.267 mg per 100g. The fast foods with the highest manganese is McDONALD'S, Peanuts (for Sundaes) which in 100g contains 2 mg of manganese.
Our proprietary nutritional density score gives a nutritional value out of 100 based on 9 different vitamins, minerals and macro nutrients. McDONALD'S, Peanuts (for Sundaes) has a nutritional value score of 14 out of 100.




Other important and manganese related nutrients are Calories, Protein, Fat and Carbohydrate. For this 100g serving for McDONALD'S, Peanuts (for Sundaes), which is the top of the fast foods list for manganese content in your diet, the amount of Calories is 640 kcal (32% RDA), the amount of Protein is 28.04 g (50% RDA), the amount of Fat is 52.91 g (81% RDA) and the amount of Carbohydrate is 16.23 g (12% RDA). The nutritional content and facts for 100g, which includes Calories, Protein, Fat and Carbohydrate is shown in the bar chart below as percentages of the recommended daily allowance along with the manganese content in McDONALD'S, Peanuts (for Sundaes) from the list of fast foods.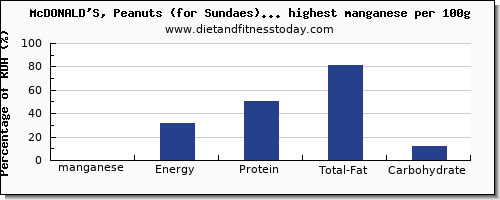 Top Ten - Highest manganese Content per 100g
Below is a simplified list for manganese in fast foods for the top 10 fast foods. A more comprehensive list for the top 100 can be found at the bottom of the page along with different servings.
1. McDONALD'S, Peanuts (for Sundaes) 2mg
2. Fast foods, miniature cinnamon rolls 0.561mg
3. McDONALD'S, McDONALDLAND Chocolate Chip Cookies 0.555mg
4. McDONALD'S, McDONALDLAND Cookies 0.515mg
5. Fast foods, cookies, animal crackers 0.487mg
6. McDONALD'S, Deluxe Warm Cinnamon Roll 0.483mg
7. McDONALD'S, Warm Cinnamon Roll 0.473mg
8. Entrees, crab cake 0.47mg
9. McDONALD'S, English Muffin 0.457mg
10. Fast foods, burrito, with beans and cheese 0.456mg
Highest Amount of manganese per Serving
Please remember that the above gives an accurate value in 100g for high manganese foods in your diet. You should also take into account portion sizes when you are considering the manganese nutritional content.
The food with the highest manganese content per typical serving is McDONALD'S, Premium Crispy Chicken Classic Sandwich which contains 0.99 mg in 1 item (or 230 g). For this serving the Calories content is 524.4 kcal (26% RDA), the Protein content is 27.78 g (50% RDA), the Fat content is 19.96 g (31% RDA) and the Carbohydrate content is 58.56 g (45% RDA).
Milligrams of manganese in fast foods (per 100g)
The list below gives the total manganese content in the top items from the general description 'fast foods' each of which show the manganese amount as well as Calories, Protein, Fat and Carbohydrate. The top 50 food items are shown in the graph below, to give a quick and easy dietary comparison for the different items, where each item is listed at the bottom of the page with a nutritional summary.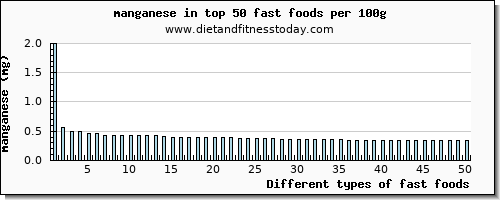 Nutritional Information Summary
From the list below you can find a full nutrition facts breakdown for all foods containing manganese which can be scaled for different servings and quantities. We have also sorted our complete nutritional information and vitamin database of over 7000 foods, to give a list of
foods with a high amount of manganese
.
List of Fast foods High in manganese Content per 100g

1. McDONALD'S, Peanuts (for Sundaes) - Manganese
2 mg of Manganese per 100g
Nutritional Value = 14 / 100 Food Category - Fast Foods
Manganese
(%RDA)
Calories
(%RDA)
Carbohydrate
(%RDA)
Fat
(%RDA)
Protein
(%RDA)
Content for a 100g serving :
2 mg
640(32%)
16.23(12%)
52.91(81%)
28.04(50%)
Typical Serving Amount : .3 oz (or 7g):
0.14 mg
44.8 kcal(2%)
1.14 g(1%)
3.7 g(6%)
1.96 g(4%)
2. Fast foods, miniature cinnamon rolls - Manganese
0.561 mg of Manganese per 100g
Nutritional Value = 13 / 100 Food Category - Fast Foods
Manganese
(%RDA)
Calories
(%RDA)
Carbohydrate
(%RDA)
Fat
(%RDA)
Protein
(%RDA)
Content for a 100g serving :
0.561 mg
403(20%)
53.38(41%)
17.95(28%)
7.02(13%)
Typical Serving Amount : 1 each (or 25g):
0.14 mg
100.75 kcal(5%)
13.35 g(10%)
4.49 g(7%)
1.76 g(3%)
3. McDONALD'S, McDONALDLAND Chocolate Chip Cookies - Manganese
0.555 mg of Manganese per 100g
Nutritional Value = 13 / 100 Food Category - Fast Foods
Manganese
(%RDA)
Calories
(%RDA)
Carbohydrate
(%RDA)
Fat
(%RDA)
Protein
(%RDA)
Content for a 100g serving :
0.555 mg
480(24%)
66.24(51%)
22.79(35%)
5.56(10%)
Typical Serving Amount : 2 oz (or 56g):
0.31 mg
268.8 kcal(13%)
37.09 g(29%)
12.76 g(20%)
3.11 g(6%)
4. McDONALD'S, McDONALDLAND Cookies - Manganese
0.515 mg of Manganese per 100g
Nutritional Value = 13 / 100 Food Category - Fast Foods
Manganese
(%RDA)
Calories
(%RDA)
Carbohydrate
(%RDA)
Fat
(%RDA)
Protein
(%RDA)
Content for a 100g serving :
0.515 mg
447(22%)
72.75(56%)
15.35(24%)
6.56(12%)
Typical Serving Amount : 2 oz (or 57g):
0.29 mg
254.79 kcal(13%)
41.47 g(32%)
8.75 g(13%)
3.74 g(7%)
5. Fast foods, cookies, animal crackers - Manganese
0.487 mg of Manganese per 100g
Nutritional Value = 14 / 100 Food Category - Fast Foods
Manganese
(%RDA)
Calories
(%RDA)
Carbohydrate
(%RDA)
Fat
(%RDA)
Protein
(%RDA)
Content for a 100g serving :
0.487 mg
446(22%)
75.33(58%)
13.43(21%)
6.18(11%)
Typical Serving Amount : 1 box (or 67g):
0.33 mg
298.82 kcal(15%)
50.47 g(39%)
9 g(14%)
4.14 g(7%)
6. McDONALD'S, Deluxe Warm Cinnamon Roll - Manganese
0.483 mg of Manganese per 100g
Nutritional Value = 14 / 100 Food Category - Fast Foods
Manganese
(%RDA)
Calories
(%RDA)
Carbohydrate
(%RDA)
Fat
(%RDA)
Protein
(%RDA)
Content for a 100g serving :
0.483 mg
367(18%)
51.8(40%)
16.24(25%)
5.62(10%)
Typical Serving Amount : 5.7 oz (or 162g):
0.78 mg
594.54 kcal(30%)
83.92 g(65%)
26.31 g(40%)
9.1 g(16%)
7. McDONALD'S, Warm Cinnamon Roll - Manganese
0.473 mg of Manganese per 100g
Nutritional Value = 14 / 100 Food Category - Fast Foods
Manganese
(%RDA)
Calories
(%RDA)
Carbohydrate
(%RDA)
Fat
(%RDA)
Protein
(%RDA)
Content for a 100g serving :
0.473 mg
398(20%)
53.02(41%)
18.14(28%)
7.18(13%)
Typical Serving Amount : 3.7 oz (or 105g):
0.5 mg
417.9 kcal(21%)
55.67 g(43%)
19.05 g(29%)
7.54 g(13%)
8. Entrees, crab cake - Manganese
0.47 mg of Manganese per 100g
Nutritional Value = 15 / 100 Food Category - Fast Foods
Manganese
(%RDA)
Calories
(%RDA)
Carbohydrate
(%RDA)
Fat
(%RDA)
Protein
(%RDA)
Content for a 100g serving :
0.47 mg
266(13%)
8.52(7%)
17.25(27%)
18.75(33%)
Typical Serving Amount : 1 cake (or 60g):
0.28 mg
159.6 kcal(8%)
5.11 g(4%)
10.35 g(16%)
11.25 g(20%)
9. McDONALD'S, English Muffin - Manganese
0.457 mg of Manganese per 100g
Nutritional Value = 15 / 100 Food Category - Fast Foods
Manganese
(%RDA)
Calories
(%RDA)
Carbohydrate
(%RDA)
Fat
(%RDA)
Protein
(%RDA)
Content for a 100g serving :
0.457 mg
285(14%)
44.36(34%)
7.87(12%)
9.26(17%)
Typical Serving Amount : 1 item 2 oz (or 57g):
0.26 mg
162.45 kcal(8%)
25.29 g(19%)
4.49 g(7%)
5.28 g(9%)
10. Fast foods, burrito, with beans and cheese - Manganese
0.456 mg of Manganese per 100g
Nutritional Value = 15 / 100 Food Category - Fast Foods
Manganese
(%RDA)
Calories
(%RDA)
Carbohydrate
(%RDA)
Fat
(%RDA)
Protein
(%RDA)
Content for a 100g serving :
0.456 mg
205(10%)
31.23(24%)
6.05(9%)
7.35(13%)
Typical Serving Amount : 1 each burrito (or 185g):
0.84 mg
379.25 kcal(19%)
57.78 g(44%)
11.19 g(17%)
13.6 g(24%)
11. TACO BELL, Bean Burrito - Manganese
0.456 mg of Manganese per 100g
Nutritional Value = 15 / 100 Food Category - Fast Foods
Manganese
(%RDA)
Calories
(%RDA)
Carbohydrate
(%RDA)
Fat
(%RDA)
Protein
(%RDA)
Content for a 100g serving :
0.456 mg
209(10%)
31.23(24%)
6.05(9%)
7.35(13%)
Typical Serving Amount : 1 each burrito (or 185g):
0.84 mg
386.65 kcal(19%)
57.78 g(44%)
11.19 g(17%)
13.6 g(24%)
12. Fast foods, nachos, with cinnamon and sugar - Manganese
0.452 mg of Manganese per 100g
Nutritional Value = 13 / 100 Food Category - Fast Foods
Manganese
(%RDA)
Calories
(%RDA)
Carbohydrate
(%RDA)
Fat
(%RDA)
Protein
(%RDA)
Content for a 100g serving :
0.452 mg
543(27%)
58.16(45%)
33.01(51%)
6.6(12%)
Typical Serving Amount : 1 portion (6-8 nachos) (or 109g):
0.49 mg
591.87 kcal(30%)
63.39 g(49%)
35.98 g(55%)
7.19 g(13%)
13. Fast foods, cookies, chocolate chip - Manganese
0.431 mg of Manganese per 100g
Nutritional Value = 14 / 100 Food Category - Fast Foods
Manganese
(%RDA)
Calories
(%RDA)
Carbohydrate
(%RDA)
Fat
(%RDA)
Protein
(%RDA)
Content for a 100g serving :
0.431 mg
423(21%)
65.86(51%)
22.08(34%)
5.25(9%)
Typical Serving Amount : 1 box (or 55g):
0.24 mg
232.65 kcal(12%)
36.22 g(28%)
12.14 g(19%)
2.89 g(5%)
14. PIZZA HUT 14 Pepperoni Pizza, THIN 'N CRISPY Crust - Manganese
0.431 mg of Manganese per 100g
Nutritional Value = 14 / 100 Food Category - Fast Foods
Manganese
(%RDA)
Calories
(%RDA)
Carbohydrate
(%RDA)
Fat
(%RDA)
Protein
(%RDA)
Content for a 100g serving :
0.431 mg
333(17%)
32.66(25%)
16.17(25%)
14.13(25%)
Typical Serving Amount : 1 slice (or 80g):
0.34 mg
266.4 kcal(13%)
26.13 g(20%)
12.94 g(20%)
11.3 g(20%)
Other Serving Size : 1 pizza (or 634g):
2.73 mg
2111.22 kcal(106%)
207.06 g(159%)
102.52 g(158%)
89.58 g(160%)
15. McDONALD'S, Premium Crispy Chicken Classic Sandwich - Manganese
0.43 mg of Manganese per 100g
Nutritional Value = 14 / 100 Food Category - Fast Foods
Manganese
(%RDA)
Calories
(%RDA)
Carbohydrate
(%RDA)
Fat
(%RDA)
Protein
(%RDA)
Content for a 100g serving :
0.43 mg
228(11%)
25.46(20%)
8.68(13%)
12.08(22%)
Typical Serving Amount : 1 item (or 230g):
0.99 mg
524.4 kcal(26%)
58.56 g(45%)
19.96 g(31%)
27.78 g(50%)
16. PIZZA HUT 14 Pepperoni Pizza, Pan Crust - Manganese
0.425 mg of Manganese per 100g
Nutritional Value = 14 / 100 Food Category - Fast Foods
Manganese
(%RDA)
Calories
(%RDA)
Carbohydrate
(%RDA)
Fat
(%RDA)
Protein
(%RDA)
Content for a 100g serving :
0.425 mg
291(15%)
31.79(24%)
13.07(20%)
11.47(20%)
Typical Serving Amount : 1 slice (or 113g):
0.48 mg
328.83 kcal(16%)
35.92 g(28%)
14.77 g(23%)
12.96 g(23%)
Other Serving Size : 1 pizza (or 909g):
3.86 mg
2645.19 kcal(132%)
288.97 g(222%)
118.81 g(183%)
104.26 g(186%)
17. Fast foods, danish pastry, cinnamon - Manganese
0.42 mg of Manganese per 100g
Nutritional Value = 14 / 100 Food Category - Fast Foods
Manganese
(%RDA)
Calories
(%RDA)
Carbohydrate
(%RDA)
Fat
(%RDA)
Protein
(%RDA)
Content for a 100g serving :
0.42 mg
397(20%)
53.24(41%)
19(29%)
5.46(10%)
Typical Serving Amount : 1 pastry (or 88g):
0.37 mg
349.36 kcal(17%)
46.85 g(36%)
16.72 g(26%)
4.8 g(9%)
18. PIZZA HUT 14 Pepperoni Pizza, Hand-Tossed Crust - Manganese
0.418 mg of Manganese per 100g
Nutritional Value = 14 / 100 Food Category - Fast Foods
Manganese
(%RDA)
Calories
(%RDA)
Carbohydrate
(%RDA)
Fat
(%RDA)
Protein
(%RDA)
Content for a 100g serving :
0.418 mg
291(15%)
32.11(25%)
12.63(19%)
12.23(22%)
Typical Serving Amount : 1 slice (or 110g):
0.46 mg
320.1 kcal(16%)
35.32 g(27%)
13.89 g(21%)
13.45 g(24%)
Other Serving Size : 1 pizza (or 883g):
3.69 mg
2569.53 kcal(128%)
283.53 g(218%)
111.52 g(172%)
107.99 g(193%)
19. Fast foods, hush puppies - Manganese
0.411 mg of Manganese per 100g
Nutritional Value = 14 / 100 Food Category - Fast Foods
Manganese
(%RDA)
Calories
(%RDA)
Carbohydrate
(%RDA)
Fat
(%RDA)
Protein
(%RDA)
Content for a 100g serving :
0.411 mg
296(15%)
40.21(31%)
13.25(20%)
6.16(11%)
Typical Serving Amount : 1 piece (or 22g):
0.09 mg
65.12 kcal(3%)
8.85 g(7%)
2.92 g(4%)
1.36 g(2%)
20. BURGER KING, Original Chicken Sandwich - Manganese
0.401 mg of Manganese per 100g
Nutritional Value = 14 / 100 Food Category - Fast Foods
Manganese
(%RDA)
Calories
(%RDA)
Carbohydrate
(%RDA)
Fat
(%RDA)
Protein
(%RDA)
Content for a 100g serving :
0.401 mg
286(14%)
26.22(20%)
14.69(23%)
12.14(22%)
Typical Serving Amount : 1 sandwich (or 199g):
0.8 mg
569.14 kcal(28%)
52.18 g(40%)
29.23 g(45%)
24.16 g(43%)
21. Fast foods, burrito, with beans - Manganese
0.4 mg of Manganese per 100g
Nutritional Value = 14 / 100 Food Category - Fast Foods
Manganese
(%RDA)
Calories
(%RDA)
Carbohydrate
(%RDA)
Fat
(%RDA)
Protein
(%RDA)
Content for a 100g serving :
0.4 mg
206(10%)
32.92(25%)
6.22(10%)
6.48(12%)
Typical Serving Amount : 2 pieces (or 217g):
0.87 mg
447.02 kcal(22%)
71.44 g(55%)
13.5 g(21%)
14.06 g(25%)
22. PIZZA HUT 14 Cheese Pizza, Hand-Tossed Crust - Manganese
0.396 mg of Manganese per 100g
Nutritional Value = 14 / 100 Food Category - Fast Foods
Manganese
(%RDA)
Calories
(%RDA)
Carbohydrate
(%RDA)
Fat
(%RDA)
Protein
(%RDA)
Content for a 100g serving :
0.396 mg
275(14%)
33.42(26%)
10.42(16%)
11.98(21%)
Typical Serving Amount : 1 slice (or 105g):
0.42 mg
288.75 kcal(14%)
35.09 g(27%)
10.94 g(17%)
12.58 g(22%)
Other Serving Size : 1 pizza (or 841g):
3.33 mg
2312.75 kcal(116%)
281.06 g(216%)
87.63 g(135%)
100.75 g(180%)
23. PIZZA HUT 14 Cheese Pizza, Pan Crust - Manganese
0.395 mg of Manganese per 100g
Nutritional Value = 14 / 100 Food Category - Fast Foods
Manganese
(%RDA)
Calories
(%RDA)
Carbohydrate
(%RDA)
Fat
(%RDA)
Protein
(%RDA)
Content for a 100g serving :
0.395 mg
276(14%)
32.85(25%)
11.25(17%)
10.85(19%)
Typical Serving Amount : 1 slice (or 112g):
0.44 mg
309.12 kcal(15%)
36.79 g(28%)
12.6 g(19%)
12.15 g(22%)
Other Serving Size : 1 pizza (or 897g):
3.54 mg
2475.72 kcal(124%)
294.66 g(227%)
100.91 g(155%)
97.32 g(174%)
24. Fast foods, french toast sticks - Manganese
0.39 mg of Manganese per 100g
Nutritional Value = 14 / 100 Food Category - Fast Foods
Manganese
(%RDA)
Calories
(%RDA)
Carbohydrate
(%RDA)
Fat
(%RDA)
Protein
(%RDA)
Content for a 100g serving :
0.39 mg
340(17%)
41.21(32%)
17.74(27%)
6(11%)
Typical Serving Amount : 3 pieces (or 65g):
0.25 mg
221 kcal(11%)
26.79 g(21%)
11.53 g(18%)
3.9 g(7%)
Other Serving Size : 5 pieces (or 109g):
0.43 mg
370.6 kcal(19%)
44.92 g(35%)
19.34 g(30%)
6.54 g(12%)
25. BURGER KING, French Toast Sticks - Manganese
0.39 mg of Manganese per 100g
Nutritional Value = 14 / 100 Food Category - Fast Foods
Manganese
(%RDA)
Calories
(%RDA)
Carbohydrate
(%RDA)
Fat
(%RDA)
Protein
(%RDA)
Content for a 100g serving :
0.39 mg
349(17%)
41.21(32%)
17.74(27%)
6(11%)
Typical Serving Amount : 1 stick (or 21g):
0.08 mg
73.29 kcal(4%)
8.65 g(7%)
3.73 g(6%)
1.26 g(2%)
Other Serving Size : 1 serving 5 sticks (or 107g):
0.42 mg
373.43 kcal(19%)
44.09 g(34%)
18.98 g(29%)
6.42 g(11%)
26. Fast foods, danish pastry, cheese - Manganese
0.385 mg of Manganese per 100g
Nutritional Value = 14 / 100 Food Category - Fast Foods
Manganese
(%RDA)
Calories
(%RDA)
Carbohydrate
(%RDA)
Fat
(%RDA)
Protein
(%RDA)
Content for a 100g serving :
0.385 mg
388(19%)
31.53(24%)
27.06(42%)
6.41(11%)
Typical Serving Amount : 1 pastry (or 91g):
0.35 mg
353.08 kcal(18%)
28.69 g(22%)
24.62 g(38%)
5.83 g(10%)
27. Fast Food, Pizza Chain, 14 pizza, pepperoni topping, regular crust - Manganese
0.385 mg of Manganese per 100g
Nutritional Value = 15 / 100 Food Category - Fast Foods
Manganese
(%RDA)
Calories
(%RDA)
Carbohydrate
(%RDA)
Fat
(%RDA)
Protein
(%RDA)
Content for a 100g serving :
0.385 mg
282(14%)
31.98(25%)
11.91(18%)
11.74(21%)
Typical Serving Amount : 1 slice (or 111g):
0.43 mg
313.02 kcal(16%)
35.5 g(27%)
13.22 g(20%)
13.03 g(23%)
Other Serving Size : 1 pizza (or 895g):
3.45 mg
2523.9 kcal(126%)
286.22 g(220%)
106.59 g(164%)
105.07 g(188%)
28. Fast foods, burrito, with beans and chili peppers - Manganese
0.384 mg of Manganese per 100g
Nutritional Value = 14 / 100 Food Category - Fast Foods
Manganese
(%RDA)
Calories
(%RDA)
Carbohydrate
(%RDA)
Fat
(%RDA)
Protein
(%RDA)
Content for a 100g serving :
0.384 mg
202(10%)
28.47(22%)
7.19(11%)
8.03(14%)
Typical Serving Amount : 2 pieces (or 204g):
0.78 mg
412.08 kcal(21%)
58.08 g(45%)
14.67 g(23%)
16.38 g(29%)
29. PIZZA HUT 14 Cheese Pizza, THIN 'N CRISPY Crust - Manganese
0.381 mg of Manganese per 100g
Nutritional Value = 14 / 100 Food Category - Fast Foods
Manganese
(%RDA)
Calories
(%RDA)
Carbohydrate
(%RDA)
Fat
(%RDA)
Protein
(%RDA)
Content for a 100g serving :
0.381 mg
306(15%)
34.22(26%)
12.8(20%)
13.37(24%)
Typical Serving Amount : 1 slice (or 79g):
0.3 mg
241.74 kcal(12%)
27.03 g(21%)
10.11 g(16%)
10.56 g(19%)
Other Serving Size : 1 pizza (or 641g):
2.44 mg
1961.46 kcal(98%)
219.35 g(169%)
82.05 g(126%)
85.7 g(153%)
30. KENTUCKY FRIED CHICKEN, Biscuit, analyzed prior to January 2007 - Manganese
0.377 mg of Manganese per 100g
Nutritional Value = 13 / 100 Food Category - Fast Foods
Manganese
(%RDA)
Calories
(%RDA)
Carbohydrate
(%RDA)
Fat
(%RDA)
Protein
(%RDA)
Content for a 100g serving :
0.377 mg
356(18%)
42.51(33%)
17.45(27%)
7.25(13%)
Typical Serving Amount : 1 biscuit (or 52g):
0.2 mg
185.12 kcal(9%)
22.11 g(17%)
9.07 g(14%)
3.77 g(7%)
31. PIZZA HUT 14 Sausage Pizza, Pan Crust - Manganese
0.375 mg of Manganese per 100g
Nutritional Value = 14 / 100 Food Category - Fast Foods
Manganese
(%RDA)
Calories
(%RDA)
Carbohydrate
(%RDA)
Fat
(%RDA)
Protein
(%RDA)
Content for a 100g serving :
0.375 mg
287(14%)
29.56(23%)
13.85(21%)
11.08(20%)
Typical Serving Amount : 1 slice (or 125g):
0.47 mg
358.75 kcal(18%)
36.95 g(28%)
17.31 g(27%)
13.85 g(25%)
Other Serving Size : 1 pizza (or 1003g):
3.76 mg
2878.61 kcal(144%)
296.49 g(228%)
138.92 g(214%)
111.13 g(198%)
32. Fast foods, burrito, with beef and chili peppers - Manganese
0.371 mg of Manganese per 100g
Nutritional Value = 14 / 100 Food Category - Fast Foods
Manganese
(%RDA)
Calories
(%RDA)
Carbohydrate
(%RDA)
Fat
(%RDA)
Protein
(%RDA)
Content for a 100g serving :
0.371 mg
212(11%)
24.6(19%)
8.23(13%)
10.7(19%)
Typical Serving Amount : 2 pieces (or 201g):
0.75 mg
426.12 kcal(21%)
49.45 g(38%)
16.54 g(25%)
21.51 g(38%)
33. PIZZA HUT 12 Pepperoni Pizza, Hand-Tossed Crust - Manganese
0.365 mg of Manganese per 100g
Nutritional Value = 14 / 100 Food Category - Fast Foods
Manganese
(%RDA)
Calories
(%RDA)
Carbohydrate
(%RDA)
Fat
(%RDA)
Protein
(%RDA)
Content for a 100g serving :
0.365 mg
280(14%)
31.55(24%)
11.38(18%)
12.86(23%)
Typical Serving Amount : 1 slice (or 96g):
0.35 mg
268.8 kcal(13%)
30.29 g(23%)
10.92 g(17%)
12.35 g(22%)
Other Serving Size : 1 pizza (or 744g):
2.72 mg
2083.2 kcal(104%)
234.73 g(181%)
84.67 g(130%)
95.68 g(171%)
34. PIZZA HUT 14 Sausage Pizza, Hand-Tossed Crust - Manganese
0.363 mg of Manganese per 100g
Nutritional Value = 14 / 100 Food Category - Fast Foods
Manganese
(%RDA)
Calories
(%RDA)
Carbohydrate
(%RDA)
Fat
(%RDA)
Protein
(%RDA)
Content for a 100g serving :
0.363 mg
287(14%)
29.39(23%)
13.5(21%)
11.92(21%)
Typical Serving Amount : 1 slice (or 119g):
0.43 mg
341.53 kcal(17%)
34.97 g(27%)
16.07 g(25%)
14.18 g(25%)
Other Serving Size : 1 pizza (or 952g):
3.46 mg
2732.24 kcal(137%)
279.79 g(215%)
128.52 g(198%)
113.48 g(203%)
35. PIZZA HUT 12 Pepperoni Pizza, Pan Crust - Manganese
0.361 mg of Manganese per 100g
Nutritional Value = 14 / 100 Food Category - Fast Foods
Manganese
(%RDA)
Calories
(%RDA)
Carbohydrate
(%RDA)
Fat
(%RDA)
Protein
(%RDA)
Content for a 100g serving :
0.361 mg
298(15%)
30.49(23%)
14.21(22%)
11.97(21%)
Typical Serving Amount : 1 slice (or 96g):
0.35 mg
286.08 kcal(14%)
29.27 g(23%)
13.64 g(21%)
11.49 g(21%)
Other Serving Size : 1 pizza (or 778g):
2.81 mg
2318.44 kcal(116%)
237.21 g(182%)
110.55 g(170%)
93.13 g(166%)
36. Fast Food, Pizza Chain, 14 pizza, pepperoni topping, thick crust - Manganese
0.361 mg of Manganese per 100g
Nutritional Value = 14 / 100 Food Category - Fast Foods
Manganese
(%RDA)
Calories
(%RDA)
Carbohydrate
(%RDA)
Fat
(%RDA)
Protein
(%RDA)
Content for a 100g serving :
0.361 mg
287(14%)
31.84(24%)
12.58(19%)
11.49(21%)
Typical Serving Amount : 1 slice (or 118g):
0.43 mg
338.66 kcal(17%)
37.57 g(29%)
14.84 g(23%)
13.56 g(24%)
Other Serving Size : 1 pizza (or 946g):
3.42 mg
2715.02 kcal(136%)
301.21 g(232%)
119.01 g(183%)
108.7 g(194%)
37. Fast Food, Pizza Chain, 14 pizza, cheese topping, regular crust - Manganese
0.36 mg of Manganese per 100g
Nutritional Value = 15 / 100 Food Category - Fast Foods
Manganese
(%RDA)
Calories
(%RDA)
Carbohydrate
(%RDA)
Fat
(%RDA)
Protein
(%RDA)
Content for a 100g serving :
0.36 mg
266(13%)
33.33(26%)
9.69(15%)
11.39(20%)
Typical Serving Amount : 1 slice (or 107g):
0.39 mg
284.62 kcal(14%)
35.66 g(27%)
10.37 g(16%)
12.19 g(22%)
Other Serving Size : 1 pizza (or 853g):
3.07 mg
2268.98 kcal(113%)
284.3 g(219%)
82.66 g(127%)
97.16 g(174%)
38. McDONALD'S, McCHICKEN Sandwich - Manganese
0.358 mg of Manganese per 100g
Nutritional Value = 14 / 100 Food Category - Fast Foods
Manganese
(%RDA)
Calories
(%RDA)
Carbohydrate
(%RDA)
Fat
(%RDA)
Protein
(%RDA)
Content for a 100g serving :
0.358 mg
273(14%)
27.97(22%)
13.21(20%)
10.43(19%)
Typical Serving Amount : 1 sandwich (or 131g):
0.47 mg
357.63 kcal(18%)
36.64 g(28%)
17.31 g(27%)
13.66 g(24%)
39. Fast foods, burrito, with beef - Manganese
0.357 mg of Manganese per 100g
Nutritional Value = 14 / 100 Food Category - Fast Foods
Manganese
(%RDA)
Calories
(%RDA)
Carbohydrate
(%RDA)
Fat
(%RDA)
Protein
(%RDA)
Content for a 100g serving :
0.357 mg
238(12%)
26.6(20%)
9.46(15%)
12.09(22%)
Typical Serving Amount : 2 pieces (or 220g):
0.79 mg
523.6 kcal(26%)
58.52 g(45%)
20.81 g(32%)
26.6 g(48%)
40. McDONALD'S, Premium Grilled Chicken Classic Sandwich - Manganese
0.357 mg of Manganese per 100g
Nutritional Value = 15 / 100 Food Category - Fast Foods
Manganese
(%RDA)
Calories
(%RDA)
Carbohydrate
(%RDA)
Fat
(%RDA)
Protein
(%RDA)
Content for a 100g serving :
0.357 mg
183(9%)
22.28(17%)
4.29(7%)
14.16(25%)
Typical Serving Amount : 1 item 7 oz (or 200g):
0.71 mg
366 kcal(18%)
44.56 g(34%)
8.58 g(13%)
28.32 g(51%)
41. Fast Food, Pizza Chain, 14 pizza, pepperoni topping, thin crust - Manganese
0.355 mg of Manganese per 100g
Nutritional Value = 14 / 100 Food Category - Fast Foods
Manganese
(%RDA)
Calories
(%RDA)
Carbohydrate
(%RDA)
Fat
(%RDA)
Protein
(%RDA)
Content for a 100g serving :
0.355 mg
331(17%)
29(22%)
17.61(27%)
14.01(25%)
Typical Serving Amount : 1 slice (or 79g):
0.28 mg
261.49 kcal(13%)
22.91 g(18%)
13.91 g(21%)
11.07 g(20%)
Other Serving Size : 1 pizza (or 597g):
2.12 mg
1976.07 kcal(99%)
173.13 g(133%)
105.13 g(162%)
83.64 g(149%)
42. PIZZA HUT 14 Sausage Pizza, THIN 'N CRISPY Crust - Manganese
0.354 mg of Manganese per 100g
Nutritional Value = 14 / 100 Food Category - Fast Foods
Manganese
(%RDA)
Calories
(%RDA)
Carbohydrate
(%RDA)
Fat
(%RDA)
Protein
(%RDA)
Content for a 100g serving :
0.354 mg
323(16%)
28.7(22%)
16.9(26%)
13.95(25%)
Typical Serving Amount : 1 slice (or 92g):
0.33 mg
297.16 kcal(15%)
26.4 g(20%)
15.55 g(24%)
12.83 g(23%)
Other Serving Size : 1 pizza (or 737g):
2.61 mg
2380.51 kcal(119%)
211.52 g(163%)
124.55 g(192%)
102.81 g(184%)
43. Fast Food, Pizza Chain, 14 pizza, sausage topping, regular crust - Manganese
0.352 mg of Manganese per 100g
Nutritional Value = 15 / 100 Food Category - Fast Foods
Manganese
(%RDA)
Calories
(%RDA)
Carbohydrate
(%RDA)
Fat
(%RDA)
Protein
(%RDA)
Content for a 100g serving :
0.352 mg
280(14%)
30.62(24%)
12.35(19%)
11.5(21%)
Typical Serving Amount : 1 slice (or 116g):
0.41 mg
324.8 kcal(16%)
35.52 g(27%)
14.33 g(22%)
13.34 g(24%)
Other Serving Size : 1 pizza (or 932g):
3.28 mg
2609.6 kcal(130%)
285.38 g(220%)
115.1 g(177%)
107.18 g(191%)
44. DOMINO'S 14 Pepperoni Pizza, Classic Hand-Tossed Crust - Manganese
0.352 mg of Manganese per 100g
Nutritional Value = 14 / 100 Food Category - Fast Foods
Manganese
(%RDA)
Calories
(%RDA)
Carbohydrate
(%RDA)
Fat
(%RDA)
Protein
(%RDA)
Content for a 100g serving :
0.352 mg
273(14%)
31.86(25%)
11.18(17%)
11.25(20%)
Typical Serving Amount : 1 slice (or 113g):
0.4 mg
308.49 kcal(15%)
36 g(28%)
12.63 g(19%)
12.71 g(23%)
Other Serving Size : 1 pizza (or 907g):
3.19 mg
2476.11 kcal(124%)
288.97 g(222%)
101.4 g(156%)
102.04 g(182%)
45. Fast Foods, crispy chicken filet sandwich, with lettuce and mayonnaise - Manganese
0.349 mg of Manganese per 100g
Nutritional Value = 14 / 100 Food Category - Fast Foods
Manganese
(%RDA)
Calories
(%RDA)
Carbohydrate
(%RDA)
Fat
(%RDA)
Protein
(%RDA)
Content for a 100g serving :
0.349 mg
276(14%)
27.4(21%)
13.59(21%)
10.94(20%)
Typical Serving Amount : 1 sandwich (or 152g):
0.53 mg
419.52 kcal(21%)
41.65 g(32%)
20.66 g(32%)
16.63 g(30%)
46. PAPA JOHN'S 14 Pepperoni Pizza, Original Crust - Manganese
0.348 mg of Manganese per 100g
Nutritional Value = 14 / 100 Food Category - Fast Foods
Manganese
(%RDA)
Calories
(%RDA)
Carbohydrate
(%RDA)
Fat
(%RDA)
Protein
(%RDA)
Content for a 100g serving :
0.348 mg
275(14%)
30.04(23%)
11.86(18%)
11.97(21%)
Typical Serving Amount : 1 slice (or 123g):
0.43 mg
338.25 kcal(17%)
36.95 g(28%)
14.59 g(22%)
14.72 g(26%)
Other Serving Size : 1 pie (or 1021g):
3.55 mg
2807.75 kcal(140%)
306.71 g(236%)
121.09 g(186%)
122.21 g(218%)
47. BURGER KING, Onion Rings - Manganese
0.342 mg of Manganese per 100g
Nutritional Value = 14 / 100 Food Category - Fast Foods
Manganese
(%RDA)
Calories
(%RDA)
Carbohydrate
(%RDA)
Fat
(%RDA)
Protein
(%RDA)
Content for a 100g serving :
0.342 mg
417(21%)
43.58(34%)
25.23(39%)
3.86(7%)
Typical Serving Amount : 1 small (or 91g):
0.31 mg
379.47 kcal(19%)
39.66 g(31%)
22.96 g(35%)
3.51 g(6%)
Other Serving Size : 1 medium (or 117g):
0.4 mg
487.89 kcal(24%)
50.99 g(39%)
29.52 g(45%)
4.52 g(8%)
Other Serving Size : 1 large (or 142g):
0.49 mg
592.14 kcal(30%)
61.88 g(48%)
35.83 g(55%)
5.48 g(10%)
48. Fast foods, onion rings, breaded and fried - Manganese
0.342 mg of Manganese per 100g
Nutritional Value = 14 / 100 Food Category - Fast Foods
Manganese
(%RDA)
Calories
(%RDA)
Carbohydrate
(%RDA)
Fat
(%RDA)
Protein
(%RDA)
Content for a 100g serving :
0.342 mg
411(21%)
43.58(34%)
25.23(39%)
3.86(7%)
Typical Serving Amount : 1 package (18 onion rings) (or 117g):
0.4 mg
480.87 kcal(24%)
50.99 g(39%)
29.52 g(45%)
4.52 g(8%)
49. DOMINO'S 14 Sausage Pizza, Classic Hand-Tossed Crust - Manganese
0.34 mg of Manganese per 100g
Nutritional Value = 14 / 100 Food Category - Fast Foods
Manganese
(%RDA)
Calories
(%RDA)
Carbohydrate
(%RDA)
Fat
(%RDA)
Protein
(%RDA)
Content for a 100g serving :
0.34 mg
273(14%)
31.84(24%)
11.2(17%)
11.08(20%)
Typical Serving Amount : 1 slice (or 114g):
0.39 mg
311.22 kcal(16%)
36.3 g(28%)
12.77 g(20%)
12.63 g(23%)
Other Serving Size : 1 pizza (or 913g):
3.1 mg
2492.49 kcal(125%)
290.7 g(224%)
102.26 g(157%)
101.16 g(181%)
50. PAPA JOHN'S 14 Cheese Pizza, Original Crust - Manganese
0.338 mg of Manganese per 100g
Nutritional Value = 14 / 100 Food Category - Fast Foods
Manganese
(%RDA)
Calories
(%RDA)
Carbohydrate
(%RDA)
Fat
(%RDA)
Protein
(%RDA)
Content for a 100g serving :
0.338 mg
260(13%)
32.74(25%)
9.25(14%)
11.53(21%)
Typical Serving Amount : 1 slice (or 117g):
0.4 mg
304.2 kcal(15%)
38.31 g(29%)
10.82 g(17%)
13.49 g(24%)
Other Serving Size : 1 pie (or 938g):
3.17 mg
2438.8 kcal(122%)
307.1 g(236%)
86.77 g(133%)
108.15 g(193%)
51. LITTLE CAESARS 14 Original Round Pepperoni Pizza, Regular Crust - Manganese
0.338 mg of Manganese per 100g
Nutritional Value = 14 / 100 Food Category - Fast Foods
Manganese
(%RDA)
Calories
(%RDA)
Carbohydrate
(%RDA)
Fat
(%RDA)
Protein
(%RDA)
Content for a 100g serving :
0.338 mg
273(14%)
31.01(24%)
10.5(16%)
13.59(24%)
Typical Serving Amount : 1 slice (or 90g):
0.3 mg
245.7 kcal(12%)
27.91 g(21%)
9.45 g(15%)
12.23 g(22%)
Other Serving Size : 1 pie (or 852g):
2.88 mg
2325.96 kcal(116%)
264.21 g(203%)
89.46 g(138%)
115.79 g(207%)
52. Fast Food, Pizza Chain, 14 pizza, cheese topping, thick crust - Manganese
0.335 mg of Manganese per 100g
Nutritional Value = 15 / 100 Food Category - Fast Foods
Manganese
(%RDA)
Calories
(%RDA)
Carbohydrate
(%RDA)
Fat
(%RDA)
Protein
(%RDA)
Content for a 100g serving :
0.335 mg
271(14%)
33.17(26%)
10.54(16%)
10.81(19%)
Typical Serving Amount : 1 slice (or 115g):
0.39 mg
311.65 kcal(16%)
38.15 g(29%)
12.12 g(19%)
12.43 g(22%)
Other Serving Size : 1 pizza (or 922g):
3.09 mg
2498.62 kcal(125%)
305.83 g(235%)
97.18 g(150%)
99.67 g(178%)
53. Fast foods, english muffin, with butter - Manganese
0.332 mg of Manganese per 100g
Nutritional Value = 14 / 100 Food Category - Fast Foods
Manganese
(%RDA)
Calories
(%RDA)
Carbohydrate
(%RDA)
Fat
(%RDA)
Protein
(%RDA)
Content for a 100g serving :
0.332 mg
300(15%)
48.19(37%)
9.14(14%)
7.73(14%)
Typical Serving Amount : 1 muffin (or 63g):
0.21 mg
189 kcal(9%)
30.36 g(23%)
5.76 g(9%)
4.87 g(9%)
54. TACO BELL, BURRITO SUPREME with beef - Manganese
0.329 mg of Manganese per 100g
Nutritional Value = 15 / 100 Food Category - Fast Foods
Manganese
(%RDA)
Calories
(%RDA)
Carbohydrate
(%RDA)
Fat
(%RDA)
Protein
(%RDA)
Content for a 100g serving :
0.329 mg
189(9%)
21.07(16%)
8.05(12%)
8.05(14%)
Typical Serving Amount : 1 item (or 248g):
0.82 mg
468.72 kcal(23%)
52.25 g(40%)
19.96 g(31%)
19.96 g(36%)
55. BURGER KING, Hamburger - Manganese
0.327 mg of Manganese per 100g
Nutritional Value = 14 / 100 Food Category - Fast Foods
Manganese
(%RDA)
Calories
(%RDA)
Carbohydrate
(%RDA)
Fat
(%RDA)
Protein
(%RDA)
Content for a 100g serving :
0.327 mg
261(13%)
26.76(21%)
10.55(16%)
14.85(27%)
Typical Serving Amount : 1 sandwich (or 99g):
0.32 mg
258.39 kcal(13%)
26.49 g(20%)
10.44 g(16%)
14.7 g(26%)
56. Fast foods, chimichanga, with beef and red chili peppers - Manganese
0.324 mg of Manganese per 100g
Nutritional Value = 14 / 100 Food Category - Fast Foods
Manganese
(%RDA)
Calories
(%RDA)
Carbohydrate
(%RDA)
Fat
(%RDA)
Protein
(%RDA)
Content for a 100g serving :
0.324 mg
223(11%)
24.09(19%)
10.07(15%)
9.53(17%)
Typical Serving Amount : 1 chimichanga (or 190g):
0.62 mg
423.7 kcal(21%)
45.77 g(35%)
19.13 g(29%)
18.11 g(32%)
57. PIZZA HUT 12 Super Supreme Pizza, Hand-Tossed Crust - Manganese
0.324 mg of Manganese per 100g
Nutritional Value = 14 / 100 Food Category - Fast Foods
Manganese
(%RDA)
Calories
(%RDA)
Carbohydrate
(%RDA)
Fat
(%RDA)
Protein
(%RDA)
Content for a 100g serving :
0.324 mg
243(12%)
25.62(20%)
10.72(16%)
10.9(19%)
Typical Serving Amount : 1 slice (or 127g):
0.41 mg
308.61 kcal(15%)
32.54 g(25%)
13.61 g(21%)
13.84 g(25%)
Other Serving Size : 1 pizza (or 1107g):
3.59 mg
2690.01 kcal(135%)
283.61 g(218%)
118.67 g(183%)
120.66 g(215%)
Other Serving Size : .5 pizza (or 541g):
1.75 mg
1314.63 kcal(66%)
138.6 g(107%)
58 g(89%)
58.97 g(105%)
58. DOMINO'S 14 Cheese Pizza, Classic Hand-Tossed Crust - Manganese
0.324 mg of Manganese per 100g
Nutritional Value = 15 / 100 Food Category - Fast Foods
Manganese
(%RDA)
Calories
(%RDA)
Carbohydrate
(%RDA)
Fat
(%RDA)
Protein
(%RDA)
Content for a 100g serving :
0.324 mg
257(13%)
33.24(26%)
8.97(14%)
10.8(19%)
Typical Serving Amount : 1 slice (or 108g):
0.35 mg
277.56 kcal(14%)
35.9 g(28%)
9.69 g(15%)
11.66 g(21%)
Other Serving Size : 1 pizza (or 865g):
2.8 mg
2223.05 kcal(111%)
287.53 g(221%)
77.59 g(119%)
93.42 g(167%)
59. Fast Food, Pizza Chain, 14 pizza, sausage topping, thick crust - Manganese
0.323 mg of Manganese per 100g
Nutritional Value = 15 / 100 Food Category - Fast Foods
Manganese
(%RDA)
Calories
(%RDA)
Carbohydrate
(%RDA)
Fat
(%RDA)
Protein
(%RDA)
Content for a 100g serving :
0.323 mg
282(14%)
30.36(23%)
12.94(20%)
11.06(20%)
Typical Serving Amount : 1 slice (or 127g):
0.41 mg
358.14 kcal(18%)
38.56 g(30%)
16.43 g(25%)
14.05 g(25%)
Other Serving Size : 1 pizza (or 1017g):
3.28 mg
2867.94 kcal(143%)
308.76 g(238%)
131.6 g(202%)
112.48 g(201%)
60. Fast foods, hamburger; single, regular patty; with condiments - Manganese
0.323 mg of Manganese per 100g
Nutritional Value = 15 / 100 Food Category - Fast Foods
Manganese
(%RDA)
Calories
(%RDA)
Carbohydrate
(%RDA)
Fat
(%RDA)
Protein
(%RDA)
Content for a 100g serving :
0.323 mg
263(13%)
29.57(23%)
10.18(16%)
13.3(24%)
Typical Serving Amount : 1 sandwich (or 97g):
0.31 mg
255.11 kcal(13%)
28.68 g(22%)
9.87 g(15%)
12.9 g(23%)
61. McDONALD'S, Hamburger - Manganese
0.322 mg of Manganese per 100g
Nutritional Value = 14 / 100 Food Category - Fast Foods
Manganese
(%RDA)
Calories
(%RDA)
Carbohydrate
(%RDA)
Fat
(%RDA)
Protein
(%RDA)
Content for a 100g serving :
0.322 mg
264(13%)
30.28(23%)
10.09(16%)
12.92(23%)
Typical Serving Amount : 1 sandwich (or 95g):
0.31 mg
250.8 kcal(13%)
28.77 g(22%)
9.59 g(15%)
12.27 g(22%)
62. LITTLE CAESARS 14 Original Round Cheese Pizza, Regular Crust - Manganese
0.321 mg of Manganese per 100g
Nutritional Value = 15 / 100 Food Category - Fast Foods
Manganese
(%RDA)
Calories
(%RDA)
Carbohydrate
(%RDA)
Fat
(%RDA)
Protein
(%RDA)
Content for a 100g serving :
0.321 mg
265(13%)
31.5(24%)
9.54(15%)
13.39(24%)
Typical Serving Amount : 1 slice (or 89g):
0.29 mg
235.85 kcal(12%)
28.04 g(22%)
8.49 g(13%)
11.92 g(21%)
Other Serving Size : 1 pie (or 758g):
2.43 mg
2008.7 kcal(100%)
238.77 g(184%)
72.31 g(111%)
101.5 g(181%)
63. Fast foods, chimichanga, with beef - Manganese
0.32 mg of Manganese per 100g
Nutritional Value = 14 / 100 Food Category - Fast Foods
Manganese
(%RDA)
Calories
(%RDA)
Carbohydrate
(%RDA)
Fat
(%RDA)
Protein
(%RDA)
Content for a 100g serving :
0.32 mg
244(12%)
24.6(19%)
11.31(17%)
11.27(20%)
Typical Serving Amount : 1 chimichanga (or 174g):
0.56 mg
424.56 kcal(21%)
42.8 g(33%)
19.68 g(30%)
19.61 g(35%)
64. Fast foods, biscuit, with ham - Manganese
0.32 mg of Manganese per 100g
Nutritional Value = 14 / 100 Food Category - Fast Foods
Manganese
(%RDA)
Calories
(%RDA)
Carbohydrate
(%RDA)
Fat
(%RDA)
Protein
(%RDA)
Content for a 100g serving :
0.32 mg
342(17%)
38.75(30%)
16.3(25%)
11.85(21%)
Typical Serving Amount : 1 biscuit (or 113g):
0.36 mg
386.46 kcal(19%)
43.79 g(34%)
18.42 g(28%)
13.39 g(24%)
65. KENTUCKY FRIED CHICKEN, Fried Chicken, ORIGINAL RECIPE, Skin and Breading - Manganese
0.319 mg of Manganese per 100g
Nutritional Value = 13 / 100 Food Category - Fast Foods
Manganese
(%RDA)
Calories
(%RDA)
Carbohydrate
(%RDA)
Fat
(%RDA)
Protein
(%RDA)
Content for a 100g serving :
0.319 mg
388(19%)
17.63(14%)
29.47(45%)
13(23%)
66. LITTLE CAESARS 14 Pepperoni Pizza, Large Deep Dish Crust - Manganese
0.316 mg of Manganese per 100g
Nutritional Value = 14 / 100 Food Category - Fast Foods
Manganese
(%RDA)
Calories
(%RDA)
Carbohydrate
(%RDA)
Fat
(%RDA)
Protein
(%RDA)
Content for a 100g serving :
0.316 mg
265(13%)
29.03(22%)
10.81(17%)
12.93(23%)
Typical Serving Amount : 1 slice (or 104g):
0.33 mg
275.6 kcal(14%)
30.19 g(23%)
11.24 g(17%)
13.45 g(24%)
Other Serving Size : 1 pie (or 938g):
2.96 mg
2485.7 kcal(124%)
272.3 g(209%)
101.4 g(156%)
121.28 g(217%)
67. LITTLE CAESARS 14 Cheese Pizza, Large Deep Dish Crust - Manganese
0.311 mg of Manganese per 100g
Nutritional Value = 14 / 100 Food Category - Fast Foods
Manganese
(%RDA)
Calories
(%RDA)
Carbohydrate
(%RDA)
Fat
(%RDA)
Protein
(%RDA)
Content for a 100g serving :
0.311 mg
263(13%)
30.1(23%)
10.22(16%)
12.63(23%)
Typical Serving Amount : 1 slice (or 102g):
0.32 mg
268.26 kcal(13%)
30.7 g(24%)
10.42 g(16%)
12.88 g(23%)
Other Serving Size : 1 pie (or 919g):
2.86 mg
2416.97 kcal(121%)
276.62 g(213%)
93.92 g(144%)
116.07 g(207%)
68. TACO BELL, Soft Taco with beef, cheese and lettuce - Manganese
0.31 mg of Manganese per 100g
Nutritional Value = 15 / 100 Food Category - Fast Foods
Manganese
(%RDA)
Calories
(%RDA)
Carbohydrate
(%RDA)
Fat
(%RDA)
Protein
(%RDA)
Content for a 100g serving :
0.31 mg
206(10%)
20.23(16%)
9.75(15%)
9.25(17%)
Typical Serving Amount : 1 each taco (or 102g):
0.32 mg
210.12 kcal(11%)
20.63 g(16%)
9.95 g(15%)
9.44 g(17%)
69. Fast foods, taco with beef, cheese and lettuce, soft - Manganese
0.31 mg of Manganese per 100g
Nutritional Value = 15 / 100 Food Category - Fast Foods
Manganese
(%RDA)
Calories
(%RDA)
Carbohydrate
(%RDA)
Fat
(%RDA)
Protein
(%RDA)
Content for a 100g serving :
0.31 mg
206(10%)
20.23(16%)
9.75(15%)
9.25(17%)
Typical Serving Amount : 1 each taco (or 102g):
0.32 mg
210.12 kcal(11%)
20.63 g(16%)
9.95 g(15%)
9.44 g(17%)
70. Fast foods, tostada, with beef and cheese - Manganese
0.309 mg of Manganese per 100g
Nutritional Value = 14 / 100 Food Category - Fast Foods
Manganese
(%RDA)
Calories
(%RDA)
Carbohydrate
(%RDA)
Fat
(%RDA)
Protein
(%RDA)
Content for a 100g serving :
0.309 mg
193(10%)
13.97(11%)
10.03(15%)
11.65(21%)
Typical Serving Amount : 1 piece (or 163g):
0.5 mg
314.59 kcal(16%)
22.77 g(18%)
16.35 g(25%)
18.99 g(34%)
71. KENTUCKY FRIED CHICKEN, Fried Chicken, EXTRA CRISPY, Skin and Breading - Manganese
0.308 mg of Manganese per 100g
Nutritional Value = 14 / 100 Food Category - Fast Foods
Manganese
(%RDA)
Calories
(%RDA)
Carbohydrate
(%RDA)
Fat
(%RDA)
Protein
(%RDA)
Content for a 100g serving :
0.308 mg
464(23%)
22.54(17%)
36.61(56%)
10.96(20%)
72. PIZZA HUT 12 Cheese Pizza, Hand-Tossed Crust - Manganese
0.308 mg of Manganese per 100g
Nutritional Value = 14 / 100 Food Category - Fast Foods
Manganese
(%RDA)
Calories
(%RDA)
Carbohydrate
(%RDA)
Fat
(%RDA)
Protein
(%RDA)
Content for a 100g serving :
0.308 mg
271(14%)
31.22(24%)
10.89(17%)
11.93(21%)
Typical Serving Amount : 1 slice (or 96g):
0.3 mg
260.16 kcal(13%)
29.97 g(23%)
10.45 g(16%)
11.45 g(20%)
Other Serving Size : 1 pizza (or 738g):
2.27 mg
1999.98 kcal(100%)
230.4 g(177%)
80.37 g(124%)
88.04 g(157%)
73. Fast Food, Pizza Chain, 14 pizza, cheese topping, thin crust - Manganese
0.305 mg of Manganese per 100g
Nutritional Value = 15 / 100 Food Category - Fast Foods
Manganese
(%RDA)
Calories
(%RDA)
Carbohydrate
(%RDA)
Fat
(%RDA)
Protein
(%RDA)
Content for a 100g serving :
0.305 mg
302(15%)
31.2(24%)
13.95(21%)
12.85(23%)
Typical Serving Amount : 1 slice (or 76g):
0.23 mg
229.52 kcal(11%)
23.71 g(18%)
10.6 g(16%)
9.77 g(17%)
Other Serving Size : 1 pizza (or 590g):
1.8 mg
1781.8 kcal(89%)
184.08 g(142%)
82.31 g(127%)
75.82 g(135%)
74. Fast foods, oysters, battered or breaded, and fried - Manganese
0.305 mg of Manganese per 100g
Nutritional Value = 14 / 100 Food Category - Fast Foods
Manganese
(%RDA)
Calories
(%RDA)
Carbohydrate
(%RDA)
Fat
(%RDA)
Protein
(%RDA)
Content for a 100g serving :
0.305 mg
265(13%)
28.69(22%)
12.9(20%)
9.02(16%)
Typical Serving Amount : 6 pieces (or 139g):
0.42 mg
368.35 kcal(18%)
39.88 g(31%)
17.93 g(28%)
12.54 g(22%)
75. PIZZA HUT 12 Cheese Pizza, Pan Crust - Manganese
0.305 mg of Manganese per 100g
Nutritional Value = 14 / 100 Food Category - Fast Foods
Manganese
(%RDA)
Calories
(%RDA)
Carbohydrate
(%RDA)
Fat
(%RDA)
Protein
(%RDA)
Content for a 100g serving :
0.305 mg
280(14%)
29.93(23%)
12.56(19%)
11.73(21%)
Typical Serving Amount : 1 slice (or 100g):
0.31 mg
280 kcal(14%)
29.93 g(23%)
12.56 g(19%)
11.73 g(21%)
Other Serving Size : 1 pizza (or 728g):
2.22 mg
2038.4 kcal(102%)
217.89 g(168%)
91.44 g(141%)
85.39 g(152%)
76. Fast foods, enchilada, with cheese and beef - Manganese
0.304 mg of Manganese per 100g
Nutritional Value = 14 / 100 Food Category - Fast Foods
Manganese
(%RDA)
Calories
(%RDA)
Carbohydrate
(%RDA)
Fat
(%RDA)
Protein
(%RDA)
Content for a 100g serving :
0.304 mg
168(8%)
15.87(12%)
9.19(14%)
6.21(11%)
Typical Serving Amount : 1 enchilada (or 192g):
0.58 mg
322.56 kcal(16%)
30.47 g(23%)
17.64 g(27%)
11.92 g(21%)
77. Fast Food, Pizza Chain, 14 pizza, sausage topping, thin crust - Manganese
0.301 mg of Manganese per 100g
Nutritional Value = 15 / 100 Food Category - Fast Foods
Manganese
(%RDA)
Calories
(%RDA)
Carbohydrate
(%RDA)
Fat
(%RDA)
Protein
(%RDA)
Content for a 100g serving :
0.301 mg
321(16%)
27(21%)
17.71(27%)
13.36(24%)
Typical Serving Amount : 1 slice (or 88g):
0.26 mg
282.48 kcal(14%)
23.76 g(18%)
15.58 g(24%)
11.76 g(21%)
Other Serving Size : 1 pizza (or 670g):
2.02 mg
2150.7 kcal(108%)
180.9 g(139%)
118.66 g(183%)
89.51 g(160%)
78. Fast foods, frijoles with cheese - Manganese
0.301 mg of Manganese per 100g
Nutritional Value = 15 / 100 Food Category - Fast Foods
Manganese
(%RDA)
Calories
(%RDA)
Carbohydrate
(%RDA)
Fat
(%RDA)
Protein
(%RDA)
Content for a 100g serving :
0.301 mg
135(7%)
17.19(13%)
4.66(7%)
6.81(12%)
Typical Serving Amount : 1 cup (or 167g):
0.5 mg
225.45 kcal(11%)
28.71 g(22%)
7.78 g(12%)
11.37 g(20%)
79. DOMINO'S 14 Pepperoni Pizza, Ultimate Deep Dish Crust - Manganese
0.298 mg of Manganese per 100g
Nutritional Value = 14 / 100 Food Category - Fast Foods
Manganese
(%RDA)
Calories
(%RDA)
Carbohydrate
(%RDA)
Fat
(%RDA)
Protein
(%RDA)
Content for a 100g serving :
0.298 mg
283(14%)
31.89(25%)
12.1(19%)
11.52(21%)
Typical Serving Amount : 1 slice (or 123g):
0.37 mg
348.09 kcal(17%)
39.22 g(30%)
14.88 g(23%)
14.17 g(25%)
Other Serving Size : 1 pizza (or 984g):
2.93 mg
2784.72 kcal(139%)
313.8 g(241%)
119.06 g(183%)
113.36 g(202%)
80. PIZZA HUT 12 Cheese Pizza, THIN 'N CRISPY Crust - Manganese
0.297 mg of Manganese per 100g
Nutritional Value = 14 / 100 Food Category - Fast Foods
Manganese
(%RDA)
Calories
(%RDA)
Carbohydrate
(%RDA)
Fat
(%RDA)
Protein
(%RDA)
Content for a 100g serving :
0.297 mg
303(15%)
28.64(22%)
14.1(22%)
15.29(27%)
Typical Serving Amount : 1 slice (or 69g):
0.2 mg
209.07 kcal(10%)
19.76 g(15%)
9.73 g(15%)
10.55 g(19%)
Other Serving Size : 1 pizza (or 573g):
1.7 mg
1736.19 kcal(87%)
164.11 g(126%)
80.79 g(124%)
87.61 g(156%)
81. McDONALD'S, McCHICKEN Sandwich (without mayonnaise) - Manganese
0.294 mg of Manganese per 100g
Nutritional Value = 14 / 100 Food Category - Fast Foods
Manganese
(%RDA)
Calories
(%RDA)
Carbohydrate
(%RDA)
Fat
(%RDA)
Protein
(%RDA)
Content for a 100g serving :
0.294 mg
240(12%)
30.95(24%)
8.46(13%)
11.08(20%)
Typical Serving Amount : 1 item (or 138g):
0.41 mg
331.2 kcal(17%)
42.71 g(33%)
11.67 g(18%)
15.29 g(27%)
82. BURGER KING, Cheeseburger - Manganese
0.29 mg of Manganese per 100g
Nutritional Value = 14 / 100 Food Category - Fast Foods
Manganese
(%RDA)
Calories
(%RDA)
Carbohydrate
(%RDA)
Fat
(%RDA)
Protein
(%RDA)
Content for a 100g serving :
0.29 mg
286(14%)
23.71(18%)
14.81(23%)
14.57(26%)
Typical Serving Amount : 1 item (or 133g):
0.39 mg
380.38 kcal(19%)
31.53 g(24%)
19.7 g(30%)
19.38 g(35%)
83. Fast foods, hamburger; single, regular patty; plain - Manganese
0.288 mg of Manganese per 100g
Nutritional Value = 14 / 100 Food Category - Fast Foods
Manganese
(%RDA)
Calories
(%RDA)
Carbohydrate
(%RDA)
Fat
(%RDA)
Protein
(%RDA)
Content for a 100g serving :
0.288 mg
295(15%)
33.71(26%)
11.24(17%)
14.74(26%)
Typical Serving Amount : 1 item (or 86g):
0.25 mg
253.7 kcal(13%)
28.99 g(22%)
9.67 g(15%)
12.68 g(23%)
84. PIZZA HUT 14 Super Supreme Pizza, Hand-Tossed Crust - Manganese
0.285 mg of Manganese per 100g
Nutritional Value = 14 / 100 Food Category - Fast Foods
Manganese
(%RDA)
Calories
(%RDA)
Carbohydrate
(%RDA)
Fat
(%RDA)
Protein
(%RDA)
Content for a 100g serving :
0.285 mg
248(12%)
26.01(20%)
10.95(17%)
11.34(20%)
Typical Serving Amount : 1 slice (or 123g):
0.35 mg
305.04 kcal(15%)
31.99 g(25%)
13.47 g(21%)
13.95 g(25%)
Other Serving Size : 1 pizza (or 1313g):
3.74 mg
3256.24 kcal(163%)
341.51 g(263%)
143.77 g(221%)
148.89 g(266%)
85. Fast foods, english muffin, with cheese and sausage - Manganese
0.284 mg of Manganese per 100g
Nutritional Value = 14 / 100 Food Category - Fast Foods
Manganese
(%RDA)
Calories
(%RDA)
Carbohydrate
(%RDA)
Fat
(%RDA)
Protein
(%RDA)
Content for a 100g serving :
0.284 mg
338(17%)
25.28(19%)
20.67(32%)
13.28(24%)
Typical Serving Amount : 1 item (or 108g):
0.31 mg
365.04 kcal(18%)
27.3 g(21%)
22.32 g(34%)
14.34 g(26%)
86. PAPA JOHN'S 14 The Works Pizza, Original Crust - Manganese
0.282 mg of Manganese per 100g
Nutritional Value = 14 / 100 Food Category - Fast Foods
Manganese
(%RDA)
Calories
(%RDA)
Carbohydrate
(%RDA)
Fat
(%RDA)
Protein
(%RDA)
Content for a 100g serving :
0.282 mg
240(12%)
26.69(21%)
10.21(16%)
10.27(18%)
Typical Serving Amount : 1 slice (or 153g):
0.43 mg
367.2 kcal(18%)
40.84 g(31%)
15.62 g(24%)
15.71 g(28%)
Other Serving Size : 1 pie (or 1093g):
3.08 mg
2623.2 kcal(131%)
291.72 g(224%)
111.6 g(172%)
112.25 g(200%)
87. WENDY'S, Jr. Hamburger, without cheese - Manganese
0.281 mg of Manganese per 100g
Nutritional Value = 14 / 100 Food Category - Fast Foods
Manganese
(%RDA)
Calories
(%RDA)
Carbohydrate
(%RDA)
Fat
(%RDA)
Protein
(%RDA)
Content for a 100g serving :
0.281 mg
243(12%)
28.45(22%)
8.75(13%)
12.62(23%)
Typical Serving Amount : 1 item (or 117g):
0.33 mg
284.31 kcal(14%)
33.29 g(26%)
10.24 g(16%)
14.77 g(26%)
88. DOMINO'S 14 Pepperoni Pizza, Crunchy Thin Crust - Manganese
0.279 mg of Manganese per 100g
Nutritional Value = 14 / 100 Food Category - Fast Foods
Manganese
(%RDA)
Calories
(%RDA)
Carbohydrate
(%RDA)
Fat
(%RDA)
Protein
(%RDA)
Content for a 100g serving :
0.279 mg
328(16%)
25.35(20%)
19.05(29%)
13.88(25%)
Typical Serving Amount : 1 slice (or 79g):
0.22 mg
259.12 kcal(13%)
20.03 g(15%)
15.05 g(23%)
10.97 g(20%)
Other Serving Size : 1 pizza (or 563g):
1.57 mg
1846.64 kcal(92%)
142.72 g(110%)
107.25 g(165%)
78.14 g(140%)
89. POPEYES, Biscuit - Manganese
0.276 mg of Manganese per 100g
Nutritional Value = 13 / 100 Food Category - Fast Foods
Manganese
(%RDA)
Calories
(%RDA)
Carbohydrate
(%RDA)
Fat
(%RDA)
Protein
(%RDA)
Content for a 100g serving :
0.276 mg
408(20%)
40.84(31%)
24.53(38%)
5.84(10%)
Typical Serving Amount : 1 biscuit (or 59g):
0.16 mg
240.72 kcal(12%)
24.1 g(19%)
14.47 g(22%)
3.45 g(6%)
90. DOMINO'S 14 Cheese Pizza, Ultimate Deep Dish Crust - Manganese
0.275 mg of Manganese per 100g
Nutritional Value = 14 / 100 Food Category - Fast Foods
Manganese
(%RDA)
Calories
(%RDA)
Carbohydrate
(%RDA)
Fat
(%RDA)
Protein
(%RDA)
Content for a 100g serving :
0.275 mg
265(13%)
33.48(26%)
9.83(15%)
10.76(19%)
Typical Serving Amount : 1 slice (or 118g):
0.32 mg
312.7 kcal(16%)
39.51 g(30%)
11.6 g(18%)
12.7 g(23%)
Other Serving Size : 1 pizza (or 947g):
2.6 mg
2509.55 kcal(125%)
317.06 g(244%)
93.09 g(143%)
101.9 g(182%)
91. TACO BELL, BURRITO SUPREME with steak - Manganese
0.274 mg of Manganese per 100g
Nutritional Value = 15 / 100 Food Category - Fast Foods
Manganese
(%RDA)
Calories
(%RDA)
Carbohydrate
(%RDA)
Fat
(%RDA)
Protein
(%RDA)
Content for a 100g serving :
0.274 mg
183(9%)
20.32(16%)
7.27(11%)
9.13(16%)
Typical Serving Amount : 1 item (or 248g):
0.68 mg
453.84 kcal(23%)
50.39 g(39%)
18.03 g(28%)
22.64 g(40%)
92. Fast Food, Pizza Chain, 14 pizza, meat and vegetable topping, regular crust - Manganese
0.273 mg of Manganese per 100g
Nutritional Value = 15 / 100 Food Category - Fast Foods
Manganese
(%RDA)
Calories
(%RDA)
Carbohydrate
(%RDA)
Fat
(%RDA)
Protein
(%RDA)
Content for a 100g serving :
0.273 mg
244(12%)
25.38(20%)
10.9(17%)
11.02(20%)
Typical Serving Amount : 1 slice (or 136g):
0.37 mg
331.84 kcal(17%)
34.52 g(27%)
14.82 g(23%)
14.99 g(27%)
Other Serving Size : 1 pie (or 1168g):
3.19 mg
2849.92 kcal(142%)
296.44 g(228%)
127.31 g(196%)
128.71 g(230%)
93. DOMINO'S 14 Sausage Pizza, Ultimate Deep Dish Crust - Manganese
0.272 mg of Manganese per 100g
Nutritional Value = 14 / 100 Food Category - Fast Foods
Manganese
(%RDA)
Calories
(%RDA)
Carbohydrate
(%RDA)
Fat
(%RDA)
Protein
(%RDA)
Content for a 100g serving :
0.272 mg
277(14%)
31.17(24%)
12.03(19%)
11.03(20%)
Typical Serving Amount : 1 slice (or 129g):
0.35 mg
357.33 kcal(18%)
40.21 g(31%)
15.52 g(24%)
14.23 g(25%)
Other Serving Size : 1 pizza (or 1032g):
2.81 mg
2858.64 kcal(143%)
321.67 g(247%)
124.15 g(191%)
113.83 g(203%)
94. KENTUCKY FRIED CHICKEN, Potato Wedges, analyzed prior to January 2007 - Manganese
0.272 mg of Manganese per 100g
Nutritional Value = 14 / 100 Food Category - Fast Foods
Manganese
(%RDA)
Calories
(%RDA)
Carbohydrate
(%RDA)
Fat
(%RDA)
Protein
(%RDA)
Content for a 100g serving :
0.272 mg
283(14%)
33.55(26%)
14.77(23%)
4.05(7%)
Typical Serving Amount : 1 package (or 134g):
0.36 mg
379.22 kcal(19%)
44.96 g(35%)
19.79 g(30%)
5.43 g(10%)
Other Serving Size : 10 wedges (or 123g):
0.33 mg
348.09 kcal(17%)
41.27 g(32%)
18.17 g(28%)
4.98 g(9%)
95. WENDY'S, French Fries - Manganese
0.271 mg of Manganese per 100g
Nutritional Value = 14 / 100 Food Category - Fast Foods
Manganese
(%RDA)
Calories
(%RDA)
Carbohydrate
(%RDA)
Fat
(%RDA)
Protein
(%RDA)
Content for a 100g serving :
0.271 mg
301(15%)
39.73(31%)
14.1(22%)
3.73(7%)
Typical Serving Amount : 1 kid's meal Serving (or 71g):
0.19 mg
213.71 kcal(11%)
28.21 g(22%)
10.01 g(15%)
2.65 g(5%)
Other Serving Size : 1 small Serving (or 113g):
0.31 mg
340.13 kcal(17%)
44.89 g(35%)
15.93 g(25%)
4.21 g(8%)
Other Serving Size : 1 medium Serving (or 142g):
0.38 mg
427.42 kcal(21%)
56.42 g(43%)
20.02 g(31%)
5.3 g(9%)
Other Serving Size : 1 large Serving (or 184g):
0.5 mg
553.84 kcal(28%)
73.1 g(56%)
25.94 g(40%)
6.86 g(12%)
96. Fast Foods, Fried Chicken, Skin and breading from all pieces - Manganese
0.271 mg of Manganese per 100g
Nutritional Value = 14 / 100 Food Category - Fast Foods
Manganese
(%RDA)
Calories
(%RDA)
Carbohydrate
(%RDA)
Fat
(%RDA)
Protein
(%RDA)
Content for a 100g serving :
0.271 mg
437(22%)
21.09(16%)
33.82(52%)
12.06(22%)
97. TACO BELL, BURRITO SUPREME with chicken - Manganese
0.27 mg of Manganese per 100g
Nutritional Value = 15 / 100 Food Category - Fast Foods
Manganese
(%RDA)
Calories
(%RDA)
Carbohydrate
(%RDA)
Fat
(%RDA)
Protein
(%RDA)
Content for a 100g serving :
0.27 mg
179(9%)
20.51(16%)
6.42(10%)
9.84(18%)
Typical Serving Amount : 1 item (or 248g):
0.67 mg
443.92 kcal(22%)
50.86 g(39%)
15.92 g(24%)
24.4 g(44%)
98. TACO BELL, Nachos Supreme - Manganese
0.27 mg of Manganese per 100g
Nutritional Value = 15 / 100 Food Category - Fast Foods
Manganese
(%RDA)
Calories
(%RDA)
Carbohydrate
(%RDA)
Fat
(%RDA)
Protein
(%RDA)
Content for a 100g serving :
0.27 mg
246(12%)
23.09(18%)
13.65(21%)
7.59(14%)
Typical Serving Amount : 1 item (or 195g):
0.53 mg
479.7 kcal(24%)
45.03 g(35%)
26.62 g(41%)
14.8 g(26%)
99. Fast foods, clams, breaded and fried - Manganese
0.268 mg of Manganese per 100g
Nutritional Value = 14 / 100 Food Category - Fast Foods
Manganese
(%RDA)
Calories
(%RDA)
Carbohydrate
(%RDA)
Fat
(%RDA)
Protein
(%RDA)
Content for a 100g serving :
0.268 mg
392(20%)
33.75(26%)
22.96(35%)
11.15(20%)
Typical Serving Amount : .75 cup (or 115g):
0.31 mg
450.8 kcal(23%)
38.81 g(30%)
26.4 g(41%)
12.82 g(23%)
100. Fast foods, chimichanga, with beef and cheese - Manganese
0.267 mg of Manganese per 100g
Nutritional Value = 14 / 100 Food Category - Fast Foods
Manganese
(%RDA)
Calories
(%RDA)
Carbohydrate
(%RDA)
Fat
(%RDA)
Protein
(%RDA)
Content for a 100g serving :
0.267 mg
242(12%)
21.49(17%)
12.81(20%)
10.96(20%)
Typical Serving Amount : 1 chimichanga (or 183g):
0.49 mg
442.86 kcal(22%)
39.33 g(30%)
23.44 g(36%)
20.06 g(36%)
manganese and Nutrition Facts - Top 201 Foods
Fruits
a banana, an apple, an orange, a peach, apricots, butternut squash, lemon, grapes, watermelon, strawberries, green grapes, kiwi, blueberries, zucchini, figs, honeydew, eggplant, dates, olives, a pear, coconut, cranberries, pomegranate, a mango, pineapple, cherries, cantaloupe, grapefruit, tangerine, nectarines, raisins, plums, tomatoes, chili peppers, chilis, peppers, avocado, cucumber, summer squash, winter squash, papaya, prunes
Vegetables
leeks, turnip greens, swiss chard, mustard greens, yams, fennel, artichokes, broccoli, cauliflower, kale, green beans, brussel sprouts, cabbage, sweet potato, a potato, carrots, lettuce, iceberg lettuce, spinach, shiitake mushrooms, celery, salad, mushrooms, potatoes, baked potato, onions, asparagus
Seafood
salmon, cod, sardines, shrimp, tuna, fish, tuna salad, halibut, sea bass, scallops
Drinks
coffee, apple juice, cranberry juice, red wine, skim milk, white wine, wine, milk, beer, alcohol, coke, soy milk, whole milk, prune juice, tea, a shake, coconut milk, orange juice, energy drinks
Nuts and Seeds
chia seeds, sunflower seeds, pecans, pumpkin seeds, hazelnuts, nuts, almonds, sesame seeds, walnuts, cashews, peanuts
Beans and Lentils
soybeans, pinto beans, kidney beans, lentils, black beans, lima beans, navy beans, beets, beans, garbanzo beans, baked beans
Meat
beef, steak, deer, bacon, chicken, fried chicken, turkey, turkey breast, chicken breast, meatloaf, ham, lamb, sausages
Fast Foods
french fries, pizza, a slice of pizza, hot dog, hamburger, a cheeseburger, a big mac
Dairy and Cheese
ricotta, yogurt, cottage cheese, an egg, egg whites, goats cheese, cheddar, cheddar cheese, cheese, hard boiled egg, feta cheese
Bread, Rice, Grains and Pasta
rye, millet, flaxseed, barley, buckwheat, whole wheat bread, a bagel, white bread, bread, quinoa, corn, spaghetti, rice, pasta, brown rice, white rice
Spreads, Sauces and Herbs
hummus, mayonnaise, butter, peanut butter, soy sauce, thyme, basil, rosemary, pepper, coriander, dill, parsley
Sweets, Desserts and Snacks
popcorn, chips, nachos, a granola bar, saltine crackers, cheesecake, jello, ice cream, doughnuts, chocolate
Breakfast Cereal
granola, cheerios, oatmeal
Miscellaneous
spirulina, honey, sugar, brown sugar, tofu, olive oil, garlic, tempeh, oats